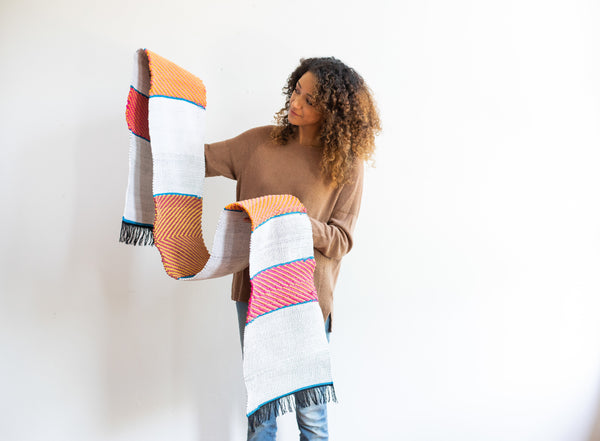 Custom and Heirloom Handwoven Pieces
WE ARE TEMPORARILY CLOSED DURING COVIT19 OUTBREAK BUT IF YOU ARE INTERESTED IN ORDERING A CUSTOM PIECE THAT YOU DON'T NEED BEFORE JUNE 2020, PLEASE CONTACT US!
This is one of our favorite ways to work, so if you're contemplating something custom, we can't wait to hear from you! Email us to start the conversation.

Custom and personalized design: You can take any of our designs and tweak the color palette to make it exactly right for you - for just $10 added to the price of the product we sell! Or, you can start from scratch and work with us to bring it to life.

What makes it heirloom?  When the piece is made entirely from your own tee shirts.  It starts with you: You've got a bunch of tee shirts from volunteering at a charity event years in a row or from your alma mater that you no longer wear but don't want to part with. Or perhaps a loved one has passed; when clearing out their personal things, a portion of their clothing could be transformed into a handwoven piece that will be cherished for years to come. 
Simply provide the tee shirts - 8 to 30 depending on the piece you want - and let us weave them into your custom heirloom piece. Turn around is 3 to 6 weeks depending on the complexity of your project. Price will vary project to project.